Jump to Recipe
If you know me, you know I love easy meals, and baked chicken thighs are about as easy as it can get. This oven-baked chicken recipe is a snap to make and results in chicken that has nice crispy skin, not limp soggy stuff that is gross. When it comes to chicken, I often prefer thighs because they don't dry out, and taste better when reheated than boneless breasts.
The key to this recipe is dropping the chicken under the broiler at the end. I've tried countless ways to get chicken crispy just by baking it and it never comes out quite right. Personally, I like to pull the chicken when the instant-read thermometer has it at about 150-155 degrees and then get it under the broiler. Moving and turning it every minute or two, right up close to the element will get the skin way crispier than the oven alone.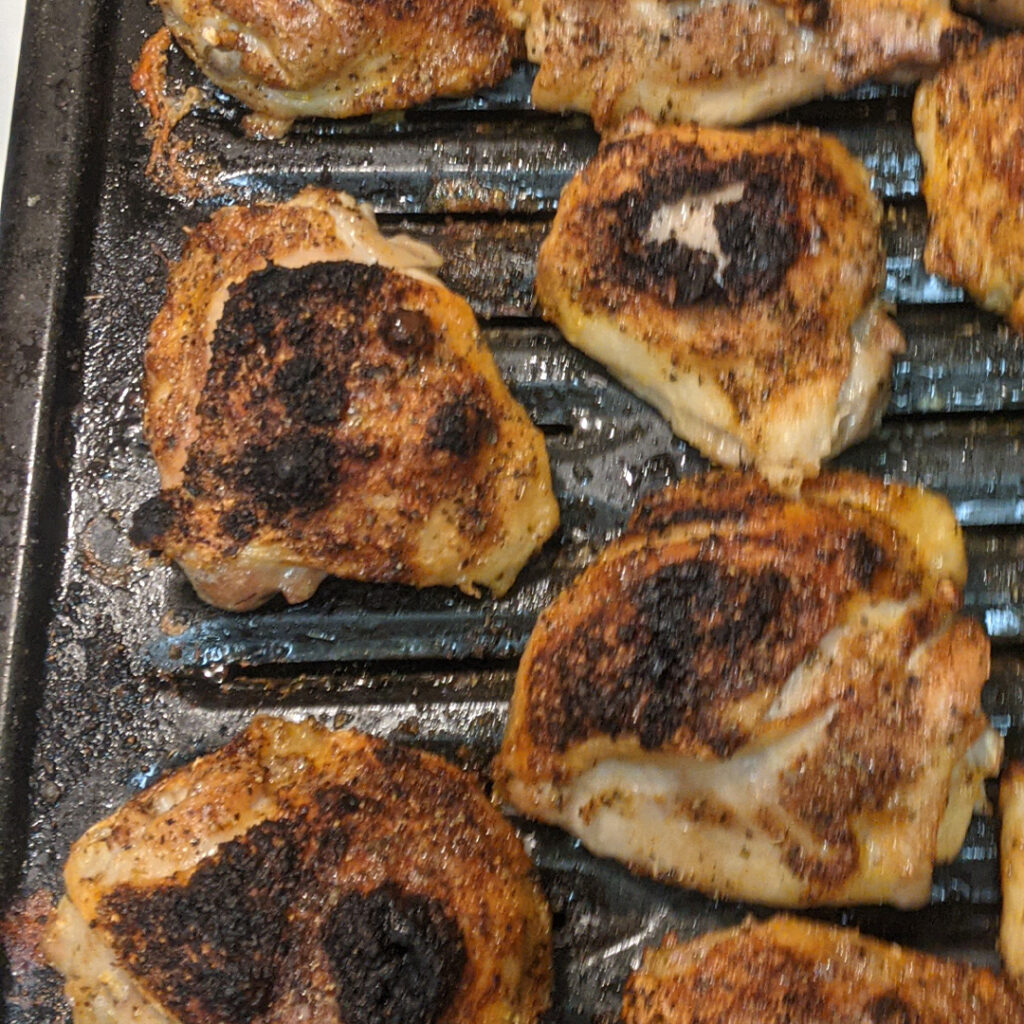 Crispy Oven Baked Bone-In Chicken Thighs
An easy way to may enough chicken for the whole family and have it come out crispy and delicious.
Ingredients
3

Pounds

Chicken thighs

About 6-8

2

Tablespoons

Olive Oil

2

Teaspoons

Salt

2

Teaspoons

Garlic Powder

2

Teaspoon

Onion Powder

2

Teaspoons

Italian Seasoning

1

Teaspoon

Black Pepper

1

Teaspoon

Paprika
Instructions
Preheat oven to 400 degrees. Line a large broiler safe baking sheet with foil for easy cleanup and set aside.

In a small bowl mix together the salt, pepper, garlic powder, onion powder, Italian seasoning, and paprika.

Remove the chicken thighs from their packaging and pat them dry with paper towels.

Place the chicken in a large bowl and drizzle with the olive oil. Rub the oil in and toss to get an even coating.

Arrange the chicken on your baking sheet and sprinkle evenly with the spices.

Bake chicken in preheated oven for 35-40 minutes or until the internal temperaure is approaching 160°

Remove the chicken from the oven, switch the oven to broil, and allow it to come up to temperature

Place chicken back in the oven on the top rack and broil in 1-2 minute intervals, turning and rearranging for even cooking until it reaches your desired level of crispness.
Notes
Chicken should reach an internal temperature of 165 degrees before consuming. 
Use an instant-read thermometer to check your chicken as it approaches being done.